What's in this Issue
Ports on Parade
Harvesting at Night & Pictures
Ports on Parade

Saturday, November 12th

1:00-4:00
Quick Facts:
6-7 Deaver ports opened and paired with savory & sweet small bites
Cigars for sale by "Smoke Signals"
Port glass to take home
$20/person general admission
You must sign into your Deaver account in order to receive your discounted tickets or if you would like either email us or give us a call and we would be happy to get your tickets for you.
$12/person wine club
Complimentary, port club and port option members (limit 2*)
Harvest Update & Pictures
Deaver started harvest about two weeks ago, and have a couple more weeks to go, maybe more if Mother Nature is kind to us (no rain).
Night picking is seems to be the new trend in Amador County but it has i

ts roots in an age-old tradition. Europe, Chile, and Argentina all harvest at night. In the U.S., California, our largest grape producing state, harvests about two-thirds of its grape crop after the sun goes down.
Harvesting grapes at night allows the picking to occur when the temperatures are cooler. This is a benefit for workers, but it is also when the sugar levels in the grapes are more stable, the quality and acid levels are better, and there is less chance of spoilage. Plus, more tonnage can be picked and processed at night.

The benefits for the workers are great. Nighttime temperatures are much easier to work in than the hot 80 to 100 degree days during August thru October. Workers don't have to worry about bee stings and surprise snake encounters among the nighttime vines.

Night harvesting began in the U.S. in the early 1970's but mostly for machine picked vineyards. Large Vineyards setup large spotlights in order to see at night but smaller vineyards like Deaver, use both lights mounted on tractors and give each worker a headlamp. Regardless of the lighting method used, the grapes and the workers are all fresher in the end.
Deaver Zinfandel being picked late night & early morning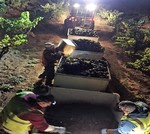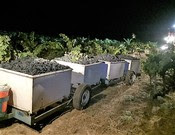 We hope you enjoyed these pictures as much as we did!



Please remember:

while on our grounds only consume alcoholic beverages purchased at Deaver Vineyards. This is a requirement of our ABC license.

Visit our website for a complete

calendar of events.
If you received this email and did not subscribe you can unsubscribe by clicking here.
If you want to update your email preferences click here.
Deaver Vineyards
12455 Steiner Road
Plymouth, California 95669
(209) 245-4099